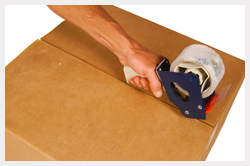 ALWAYS KEEP IN MIND IF IT CAN'T MOVE IT CAN'T BREAK
Some of the following are just good ideas.
Some will save you a lot of damages…
•Rule #1 the smaller the box the heavier the item (except dishes)
Wrap all dishes and fragile items individually and stand them on edge in a china barrel this is a double walled box extra strong. The box should have loose paper on the bottom and top and do not over fill.
Overfilled boxes are hard to stack
Tape all boxes top and bottom
Get the kids involved it helps if they are part of the move give them a large box and have them pack their own rooms,
Mark all boxes with the room they are going to
Lamp shades should be packed into appropriate boxes not left loose they get crushed.
If you are using a mover most of them will allow you to leave regular clothing in the dresser drawers.
•Keep in mind that they will not take perishables aerosol combustibles or corrosives.
It's also a good idea if using movers to use a mark known only to you to mark boxes containing valuables. It's easier to check them off on delivery
•Remember the items being packed are your treasures the more time and care you take the less stress and worry during the move
Good luck with your move. If you have any questions contact us at austin@furniturerelocators.ca